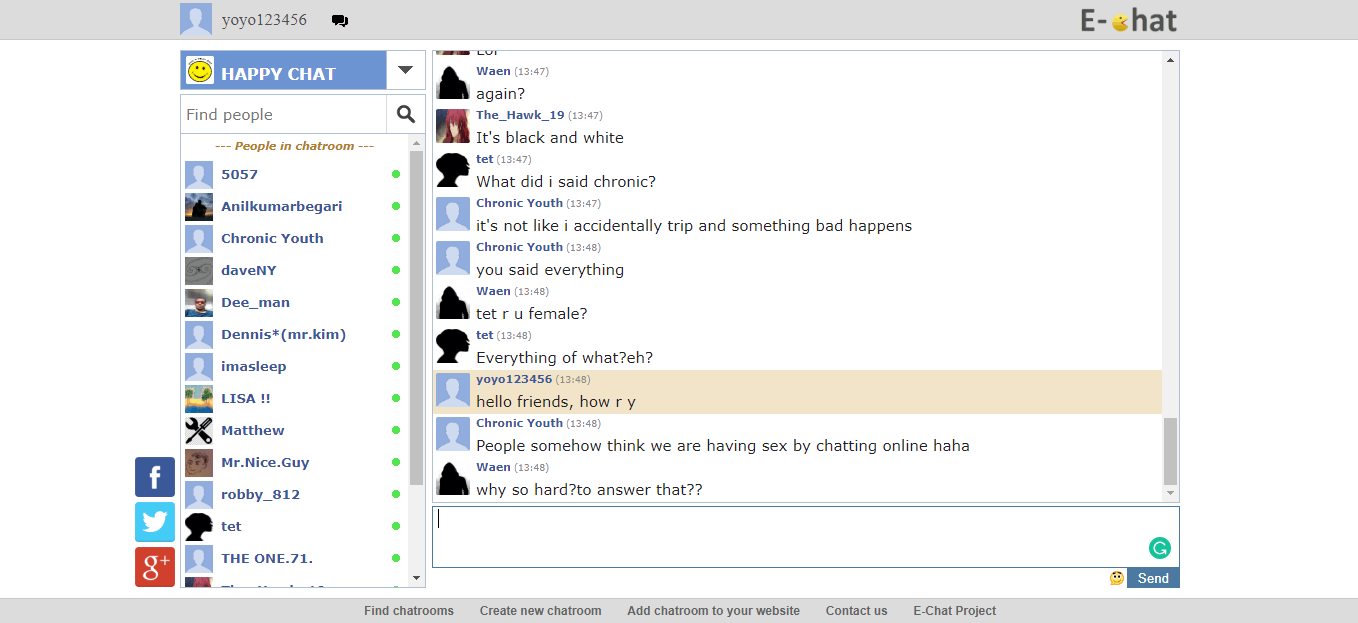 visit E-chat.co
Among the leading chat sites, E-Chat has its own coveted place for its user-friendly features. It is widely acclaimed for its free chat rooms that allow people from across the world to randomly check-in without disclosing their identity. They can anonymously chat with random people on the website that has many rooms created for chatting. Users can create an account as guests and begin their great chatting journey.
Account
As per your preference, to begin chats, you can create your account with a user's name and sign in coming sessions with the same details. However, if you don't wish to create an account, you can just barge in a room as a guest to begin chatting, after picking any chatter onboard. A guest user just needs to select a user name and complete Captcha verification.
Chat Rooms
Next step after logging is selecting a chat room out of many chat rooms on site. Choose chat room of your fancy or any one randomly. The most amazing part of this chat site is that you can pick anyone for a private chat or add as your friend. Additionally, chat site allows you to create own chat room and invite your online or offline friends to visit it. Once you have good numbers of friends there, you can become a moderator and control the activities in the chat room.
Easy to Use
E-Chat is simply designed as a user-friendly website. The ease of usage makes it a very popular among the users. You can use all its options of navigation smoothly, with no need of deciphering the complexity in navigation like many other websites have. This chat site doesn't have a mobile app but it can be used through web browsers on mobile. Here, one would feel same experience as on the website. One can't miss out much on mobile app, as the provided service is good enough like that only.
E-Chat is a free chat site, doesn't require any plugin to run. This doesn't slow down your system or website, as the chat-box is loaded as an IFRAME tag, which takes bandwidth from the e-chat servers.
E-Chat Exciting Features
There are many high points of chatting on e-chat that you would not like to miss.
You can meet new people every time you log in, who might share your interests and might draw your full attention to involve you into the longer chats. Many people meet their dating and life partners here on this site.
You can make or pick a Chat icon for identification. When your friends visit chat room, they can recognize by your icon.
You can make your own chat room and gain complete control over it. You can keep tab on the activities of chatters and make it a great chatting group.
Add a chat box to another website (www.e-chat.co/widget/example) for widgets and icons.
You need not worry about the speed of the chat rooms, or any other charges, because it will always be free and continue to offer you an amazing experience.
Guideline to Chat with Strangers Online On e-chat
There is one big apprehension of lot of people, what to say while chatting with a stranger. Here are some points that may be useful, when you begin chatting on e-chat.
After initial 'Hi' start with what you do, where you live, what are your interests, and similar one-liners. These would open up a common passage for you to begin your chatting journey. When the chatting gets in flow you can ask for number or photo also. If lucky, you can win a date soon. However, if you find interest in random chats, continue enjoying random chatting sessions.